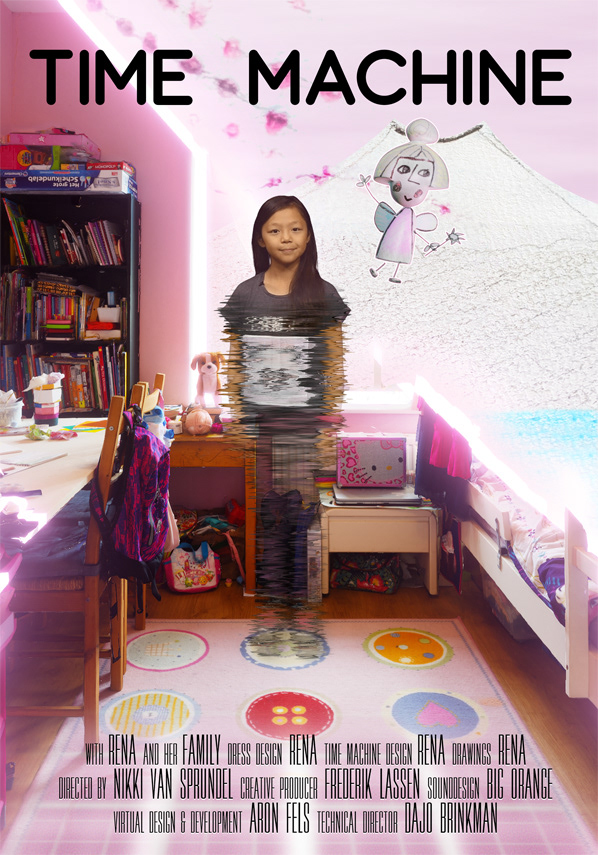 Director:
Nikki van Sprundel
Creative Producer:
Frederik Lassen
Sound Design:
Big Orange
Virtual
Design & Development:
Aron Fels
Technical Director:
Dajo Brinkman
What if you could meet your 10 year old self, standing in your old bedroom? In this VR documentary 10 year old Rena talks directly to you, her future self. She will not get to see what you'll be seeing until 2038, when she will travel back in time and meet herself as a kid. What about Rena's life now in 2018, should her 30 year old self absolutely know about? What does she think her life will be like when she grows up? By stepping into Rena's future shoes, you will also be confronted with your own childhood. Did you become who you wanted to be when you were 10?
Time Machine is one of few VR experiences to include the viewer in a live action documentary story, creating a new way to document people.
Time Machine also uses cutting-edge technology to enlarge the feeling of immersion. It uses a combination of techniques, including photogrammetry and volumetric video. By using these techniques, the viewer is able to walk around in Rena's photo-realistic bedroom and to stand eye in eye with a moving 3D holographic image of her. This is a big step up from 360 video, where movement through a space can not be initiated by the viewer itself. Being able to walk around a realistic space like this, is said by the audience of Time Machine to greatly enlarge the feeling of presence.